---
While Covid-19 has filled the news headlines for much of the past year+, and Americans quickly grow weary of the endless lockdowns, the dehumanization of mask mandates and 'social distancing', we've warned in past stories that we should get ourselves prepared for 'the next big deal', with globalists endlessly scheming the best way to complete their 'end game', the complete takedown of the American Republic and all of our God-given Rights that are merely 'protected' by the US Constitution.
(Article by Stefan Stanford republished from AllNewsPipeline.com)
So with one US state after another bringing an end to some part of their 'Covid-controls', many ANP readers have recently brought up in several different ANP comment sections what appears to be 'the next big thing' on the horizon, and if they're right, America is about to enter a completely different 'ballgame'.
While over the past many years, America has seen an occasional 'ebola-scare', what's happening now in one state after another hints at what may be ahead, with the state of Washington monitoring at least 23 people for ebola following travel to countries with outbreaks, joining the states of Ohio, Oregon and now Kentucky as states monitoring people following visits to countries hard-hit by ebola.
And while all of these potential ebola cases could very well just be 'coincidences', as ANP reader 'OkyDoky' had pointed out in ANP's breaking news comment section in a response to 'Deplorable Susie', "What a coincidence, all at the same time."
As Susie had pointed out in her comment, "A group from Ohio were missionaries/volunteers helping with medical and agricultural efforts, I think? They simply came home when their "time" was up – no one brought them here!! Unfortunately, they were not "checked" when they arrived back in the states – or at least, no one showed any symptoms then?"
So while the movement of Americans has been 'stifled' by pandemic restrictions, all of these people coming back into America from other countries, unmonitored at first, hints that something else rotten is going on under Joe Biden.
And as ANP reader 'Proud_2B-American' had pointed out in two different comments, "SO, how many days before a ship sinks in the Panama Canal??? Afternoon all, remember I said "watch out…Ebola is next to put a nail in our coffin!" 4 with Ebola in OREGON. They weren't TESTED, coming from the hot spot of the world "CONGO". 
And as Proud had pointed out in that second comment, "Would explain Deagel as well.. AND confirm our military knew from the beginning. The country will fall if they hit us with a Ebola pandemic now, it's so fragile at this moment, it'd be over for the republic."
So with nothing less than 'America' on the line, can you imagine the 'Covid Karens' if an Ebola pandemic were to strike our country?! As Proud perfectly pointed out, an Ebola pandemic in America would be the 'end of America', with any videos of Americans hemorrhaging in the streets sure to kick the hysteria level in America up ten notches.
So we'll be taking a look within the next section of this story at the diseases that a Bill Gates run group is now predicting will bring about 'the globalists end game', as well as taking a look in the final section of this story at the known facts about ebola, including a look at a timeline of its 'discovery' back in 1976, through it's appearance in Reston, Virginia of all places, and on into 2021.
If we wanted to take a look at the world's possible future through the eyes of Bill Gates, this March 22nd story over at The Sun would be a great place to start. Titled "HIDDEN DISASTERS Eye-bleeding fever to explosive diarrheas – Bill Gates' group warns of 16 diseases that could spark pandemic after Covid", how is it that a 'computer guy' has gotten so heavily into 'medicine' at a time when the globalists seek to undertake a 'radical transformation' of the world we live in?
With Gates heavily pushing the Covid-19 vaccine, we shouldn't be the least bit surprised that one of his groups is now warning about the potential of a 'civilization ending' pandemic, much worse than Covid-19. And Gates group is warning that 'serious actions must be taken'. What kind of serious actions? From this story at The Sun before we continue.
DEADLY diseases with the potential to cause a pandemic even worse than Covid-19 have been named in a chilling new report. 
CEPI, founded by Bill Gates, has warned the world's leading authorities that serious action must be taken if we are to prevent an even deadlier disease from sweeping through the globe. 
In just over a year, Covid-19 has infected around 122 million people around the world, killing nearly 2.7 million. And its impact is still being felt around the world, with countries such as Brazil and Italy experiencing new waves of coronavirus. 
But if we do not act soon then another perhaps even deadlier pandemic could be just around the corner. Any of these could be the next Covid-19 or worse CEPI. 
The CEPI report has outlined 16 newly emerging disease as well as 27 re-emerging diseases which all have pandemic potential. The report also highlights other coronaviruses known to us such as SARS and MERS as a significant recurrent pandemic threat. 
It states: "The emergence of a coronavirus combining the transmissibility of Covid-19 with the lethality of SARS or MERS would be civilisation-shattering." 
Well known diseases that could make a comeback according to the report include HIV and Ebola in Africa. The report adds: "Covid-19 is just one of many diseases with pandemic potential. "More than 1.6 million yet to be discovered viral species from these virus families are thought to exist in mammal and bird hosts. 
"And any of these could be the next Covid, or worse."
And if we want to take a look at what kind of 'serious actions' might be taken by the globalists in an attempt to stop the spread of these diseases, we need not look any further than this story over at Zero Hedge which reports that one Supreme Court judge in the UK expects people will be forced to wear masks, while staying home, for TEN YEARS!
Can you imagine that happening in our country! Just as 'Proud' had pointed out in his comment, one could safely argue that there'd be no 'America' left after 10 years of medical tyranny.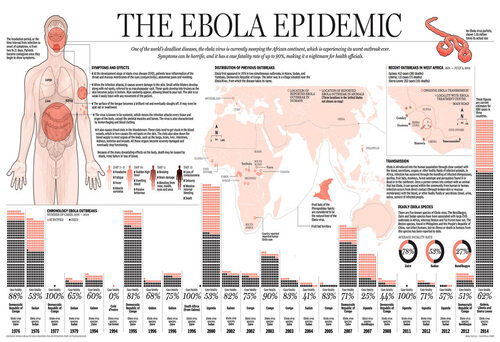 Please see the timeline above in full size here.
As we've mentioned previously in numerous stories on ANP, according to the website Deagel.com, which uses as its sources numerous different US government agencies including the US Department of State and the CIA, America's population is forecast to drop to less than 100 million by the year 2025, less than 4 years from now, from the the 327 million living here in 2018.
With such 'depopulation' numbers absolutely accomplishing the globalists goals to 'depopulate' the planet, both governments and terrorists have used, or threatened to use, different forms of 'germ warfare' as a weapon of war or a weapon of terror, including using pathogens as deadly and horrific as ebola.
While according to Wikipedia, ebola was first discovered in Sudan in Africa back in 1976, through most of the following decades it was largely confined to Africa, although back in 1989-1990, it made a sudden appearance in Reston, Virginia of all places.
And while officially, the Reston Virus (RESTV) was introduced into quarantine facilities in Virginia, Texas and Pennsylvania by monkeys imported from the Philippines, with no human cases were reported, four people did develop antibodies but did not get sick.
And with the Reston Virus being a new strain of Ebola that had never been seen before, one of six known viruses within the genus Ebolavirus, that strain was also mentioned in the best-selling 1994 book, "The Hot Zone".
The Hot Zone: A Terrifying True Story is a best-selling 1994 nonfiction thriller by Richard Preston about the origins and incidents involving viral hemorrhagic fevers, particularly ebolaviruses and marburgviruses.
The basis of the book was Preston's 1992 New Yorker article "Crisis in the Hot Zone". The filoviruses—including Ebola virus, Sudan virus, Marburg virus, and Ravn virus—are Biosafety Level 4 agents, extremely dangerous to humans because they are very infectious, have a high fatality rate, and most have no known prophylactic measures, treatments, or cures. 
Along with describing the history of the devastation caused by two of these Central African diseases, Ebola virus disease and Marburg virus disease, Preston described a 1989 incident in which a relative of Ebola virus, Reston virus, was discovered at a primate quarantine facility in Reston, Virginia, less than 15 miles (24 km) away from Washington, D.C. 
The discovery of the Reston virus was made in November 1989 by Thomas W. Geisbert, an intern at United States Army Medical Research Institute of Infectious Diseases. Dr. Peter B. Jahrling isolated the filovirus further.  
And as this recent story over at The Sun had reported, scientists are always on the hunt on for 'Animal X', hiding deadly virus that could trigger a pandemic worse than the Black Death killing 75 million, something that could be used by globalists or governments to weaponize as their 'next big thing'.
So with the globalists seemingly going in an entirely different direction in 2021 with the Covid-scare simply not completing their 'dirty work' of completely locking down America on the road towards total medical tyranny, a full-scale lockdown all across America due to Ebola would be the final nail in America's coffin, with any 'America' that emerges years later being merely a shell of our former free nation.
Read more at: AllNewsPipeline.com